Kentha: did we really need another music WordPress theme?
---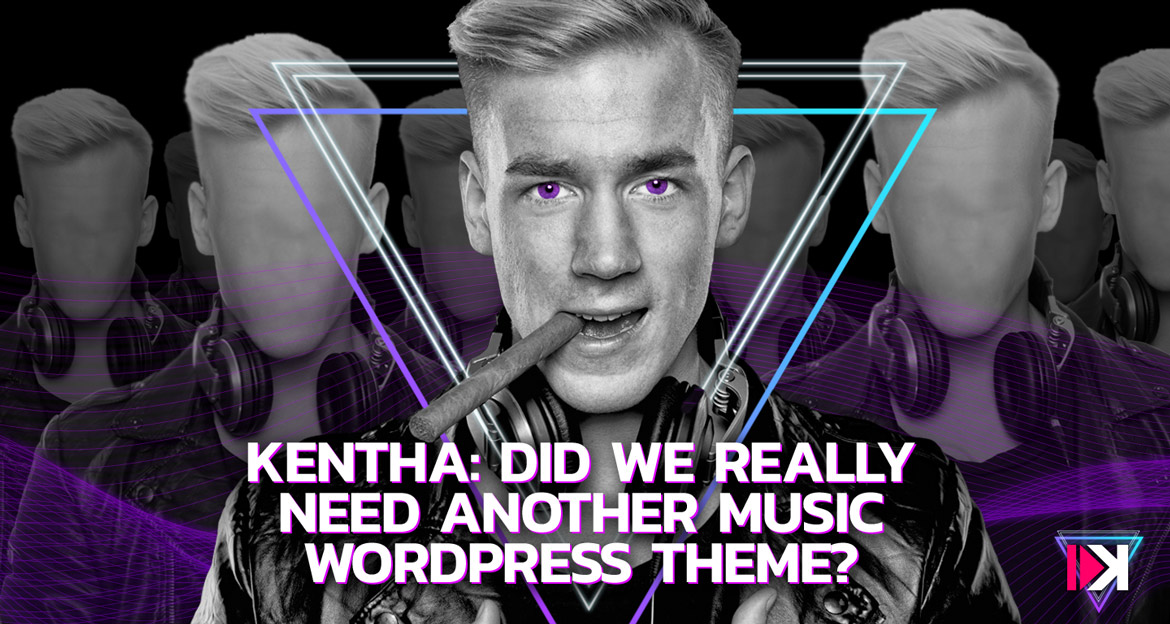 When buying a new car, do you ever wonder how that company is still able to sell its products in such a saturated market? The same can be said for smartphones, where it seems like every brand comes out with several new models every year. And what about music WordPress themes? They're everywhere.
So, why in the world do we need another music WordPress theme, and how does a theme like Kentha make a dent in this current niche?
In the auto industry, it's the cars with radical new features that stand out and make the world shift to new progressive technologies – think Tesla or the Prius.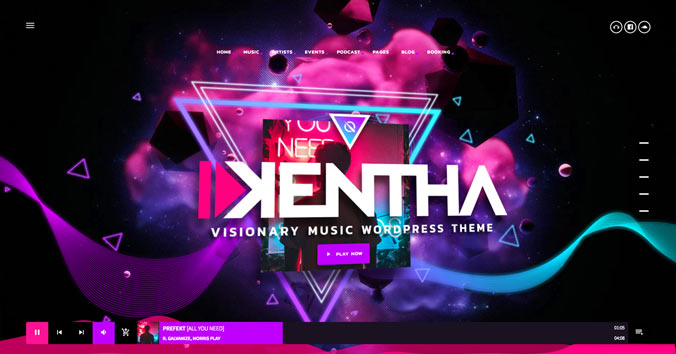 That's how Kentha stands out, by breaking down what's already offered in other music themes and making the features better, while also offering something completely new.
What are some of the other top music themes on the market? Croma, Phase, and FWRD all come to mind.
But what makes Kentha a more powerful alternative?
Kentha was made to outclass even the most popular, advanced music themes. It has features like a real-time audio visualizer, non-stop AJAX mp3 player, and a beautiful video background. Because of this, Kentha has charged ahead past the competition, becoming the top-selling, highest rated music themes on Envato's ThemeForest. In fact, the only one that's still ranked above Kentha is our own Onair2 Radio Station theme.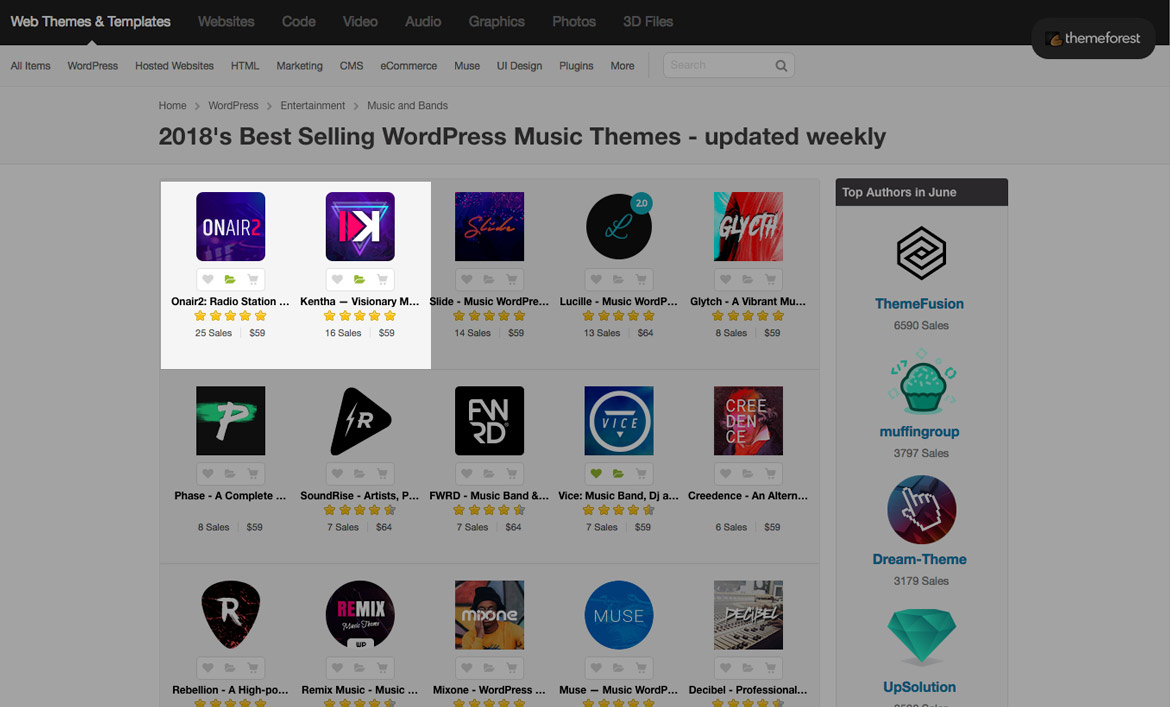 The Kentha theme was born to dominate this niche market and it's done so with the help of dozens of stunning demos and many other tools that work for beginners and advanced WordPress developers alike.
The key to making the best possible music WordPress theme
Plenty of excellent music themes already exist. That's why it seems so improbable that we've created something superior. However, we've found that the key to developing the king of music themes is all rooted in our workflow.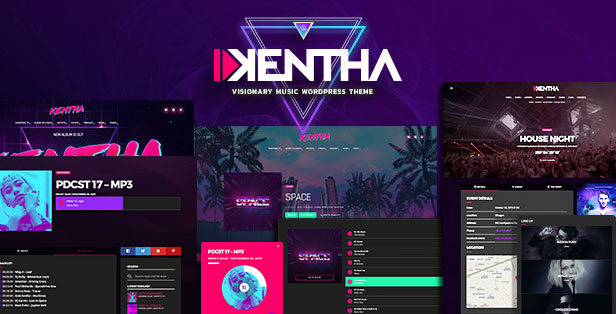 Our team of developers are more than coders and designers. We live and breathe the music industry, and it all starts from our location.
If you're not familiar with Ibiza, it's one of the music capitals of the world. Our development company is based in Ibiza, so we're able to connect with and live around the music business as insiders. From keeping in contact with world-class singers to working alongside musicians and producers, we're able to use a more customer-centric development process.
If a producer tells us about some needs for his website, we're able to ask questions and learn from that seasoned professional. After compiling the needs of all of our colleagues and users, our team produces the features needed to make everyone happy. In short, the design comes directly from the wants and desires of the music business itself.
In the social age, fans can simple go to SoundCloud to listen to your music. If they want to see pictures of your band or performances, Facebook and Instagram are a click away.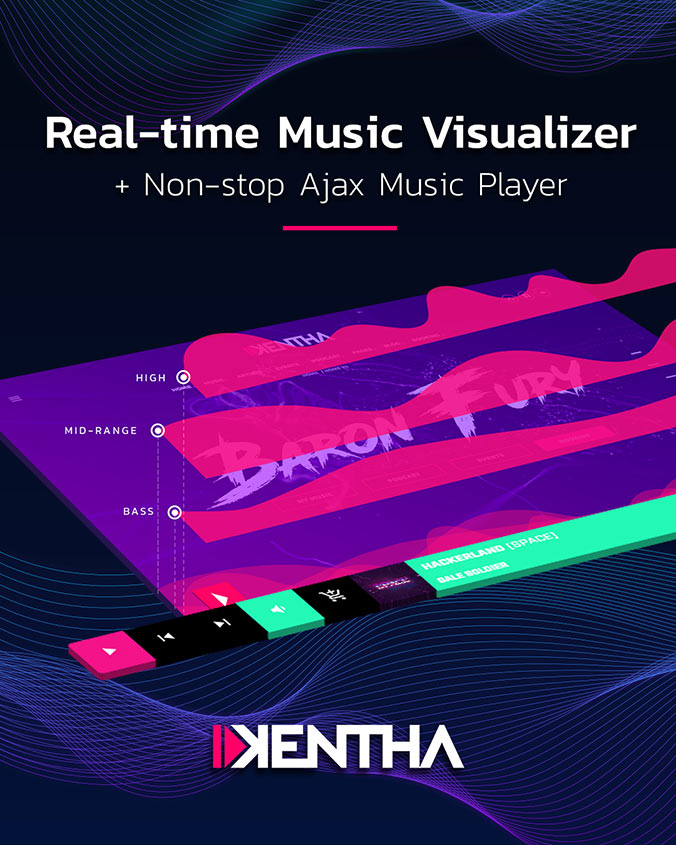 But real music fans want more.
These social elements are only little breadcrumbs of the entire musical journey – and savvy producers and musicians understand this. It's the incredible website that presents fans with the full experience and the value of your music in a satisfying way.
What's great about Kentha is that you're receiving an affordable theme but still ending up with a result that would cost you thousands of dollars for a custom design. Your fans and customers get immersed in your music with a real-time music visualizer and fullscreen video background. Your branding becomes far more unique after you choose from the dozens of demos for genres like punk rock, metal, country, EDM, techno and more.
What's more is that your fans have the opportunity to continue listening to your music while exploring all of the pages on your website, all thanks to the completely unique, non-stop music player.
As music lovers and developers with one goal in mind, our workflow starts from the needs of the music industry. We know that you need more than a pretty website. Artists require more sales. Artists require a message of true artistry and branding. Artists require a presentation that's powerful and effective enough to reach labels, club owners, and directors.
"Seduce your visitors and glue them to your pages, transmitting the true essence of your music. Kentha finally realizes the dream of millions of artists, becoming your best partner to sell more music and find more gigs."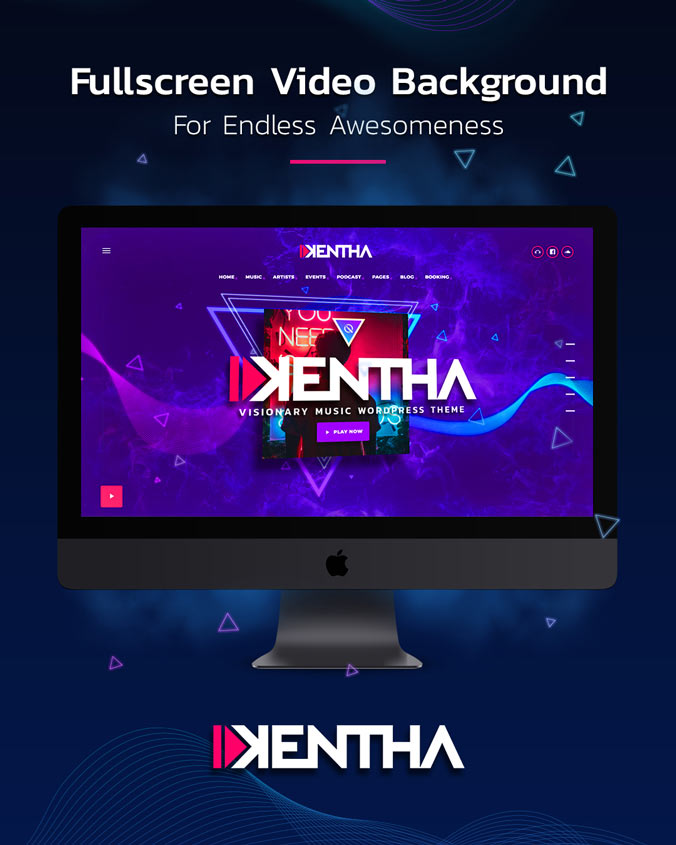 Kentha is sure to be one of your best friends in displaying your art and making people excited about it. You can grab the attention of your fans, let them listen to your tracks, and guide potential buyers to your music store or to book you for a gig. Your music website serves as your platform for reaching the world, and Kentha is here to make the user experience so beautiful and unique that they'll definitely come back for more.
This simple, yet powerful theme lets you create a dream website without writing a single line of code. It offers superior loading performance for your music and other media – something that no other music theme on the market can provide.
What's the best part? Kentha was created so that a million websites could be made and all of them would be completely unique. Uniqueness is a huge factor in the music business, and Kentha helps you show how your music stands out.
---